Evaluation is intended to be a practical craft.
If you don't use it, you should lose it. That's why we focus on designing a tailored evaluation to gather quality data you will actually use.
Our evaluations support continued learning about your priority populations, the processes you use to do your work, and the outcomes achieved to help guide decision-making.
Data are around us all the time and embedded in almost every decision we make – we will work with you as experts and partners to identify those data and use them to tell the story of your work.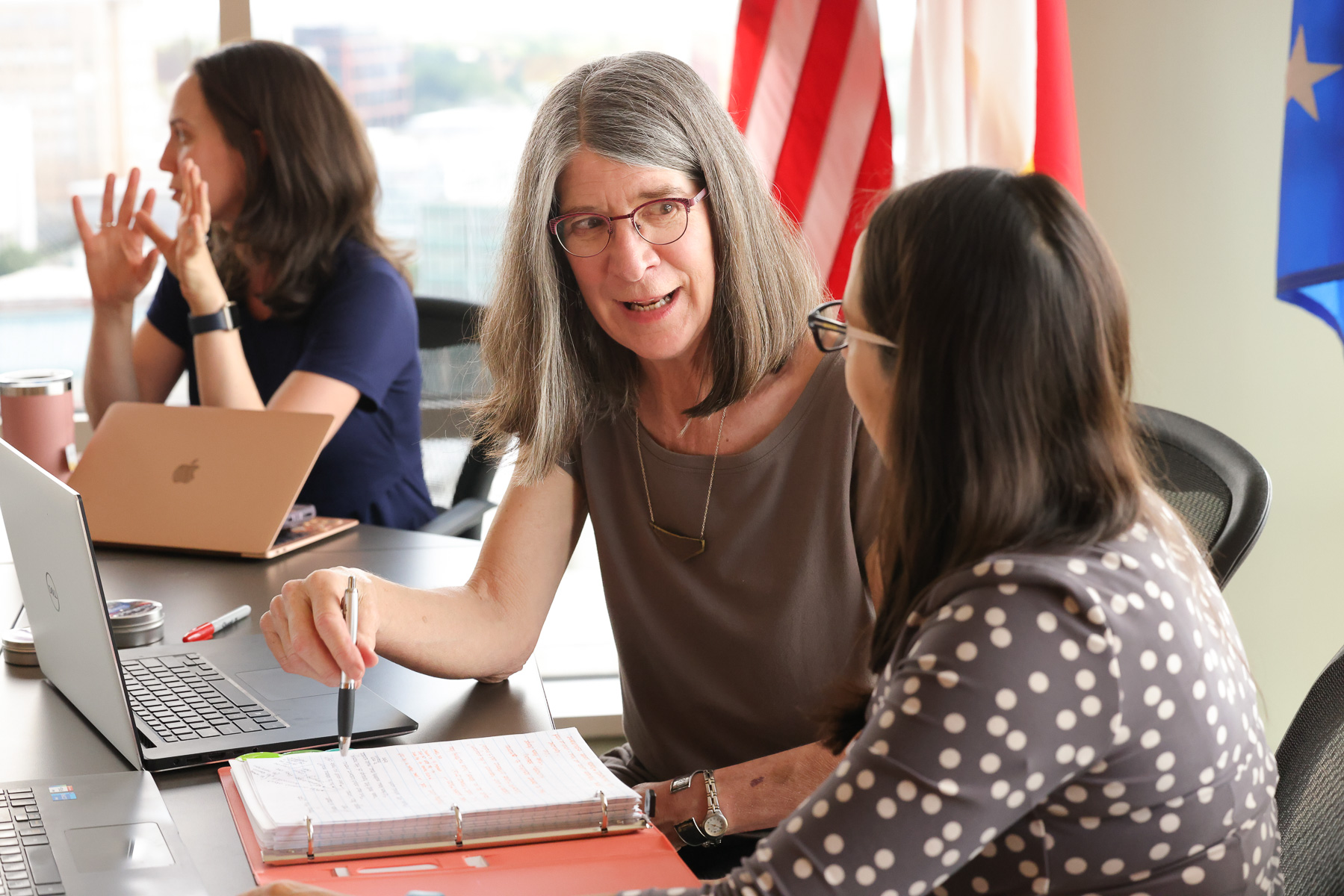 What Happened Comes First, Then Outcomes
Too many evaluations rush straight to outcomes and impacts, without spending the time to document the elements of a project design that create the context for change to happen.
We're working to change that – we want to tell the story of how and why you designed your project the way you did, and then what difference it made in the world.
Continuous Improvement
There's no such thing as a perfect project, or a perfect evaluation.
We strive toward our potential and yours by intentionally guiding reflection, building capacity, and centering equity and inclusion throughout the evaluation partnership.
Hear from Our Amazing Clients:
Invaluable to our Project
Karen and the whole team have been invaluable to our project; their expertise in evaluation has provided so many insights on what we are doing well and where we could improve. And, just as important, the team is a joy to work with; they are professional, responsive, organized, thorough, fun, and genuinely care about the people they work with. I look forward to collaborating with Karen and the team on many future projects!
– Susan Park, Executive Director, Coastal & Estuarine Research Federation
Useful to Practice and Theory
I've worked with Karen and her team on several research projects and the fact I keep coming back is an indicator of how much I value her team as collaborators. I've been impressed with Karen's desire to make sure that our work together is useful to both practice and theory. It's great to have to have a collaborator who can help straddle both the academic and practitioner worlds.
– John Besley, Ellis N. Brandt Professor of Public Relations, Michigan State University
Rigorous Methodological Knowledge
Karen is a true thought-partner in collaborative research – from concept to execution to analysis and sharing findings. She and her team bring wisdom, experience, and an openness to try new things in order to explore our questions. As a practitioner, I especially appreciate Karen's rigorous methodological knowledge and process and how she can connect my questions to the broader literature and fields of study. There's excellent give and take. Plus, working with Karen is fun and enjoyable.
– Denise Young, Executive Director, Bell Museum
Providing the Support to Undergird the Rigor
Karen Peterman is a wonderful thought partner and research collaborator! She pushes our work to be as rigorous as possible while providing the support to undergird the rigor. Karen is collaborative and I can always count on her and her team to exceed expectations on whatever their contribution is. I value our work together and hope to continue to be able to work with Catalyst Consulting Group on as many projects as possible.
– Rachel Becker Klein, President, Two Road Consulting
Capture the Nuanced Impacts of Programs
I have worked with the team at Catalyst Consulting Group across several projects at the Maine Mathematics and Science Alliance. In all of these projects, the team has been intelligent, empathetic, and adaptable thought-partners, helping to steer evaluations using rigorous methods that honor the voices of participants and capture the nuanced impacts of programs. I would highly recommend this team!
– Alexandria Brasilli, Research Associate, The Maine Math & Science Alliance
Ready to talk about your project?
We'd love to hear what you're working on and think together about how our team might support your work. We will have lots of questions – want to see sample questions or reach out?
Learn More