I've always considered my career to be a series of happy accidents, and that extends to evolution of the company as well.
Here's my two cents about how we got to where we are today: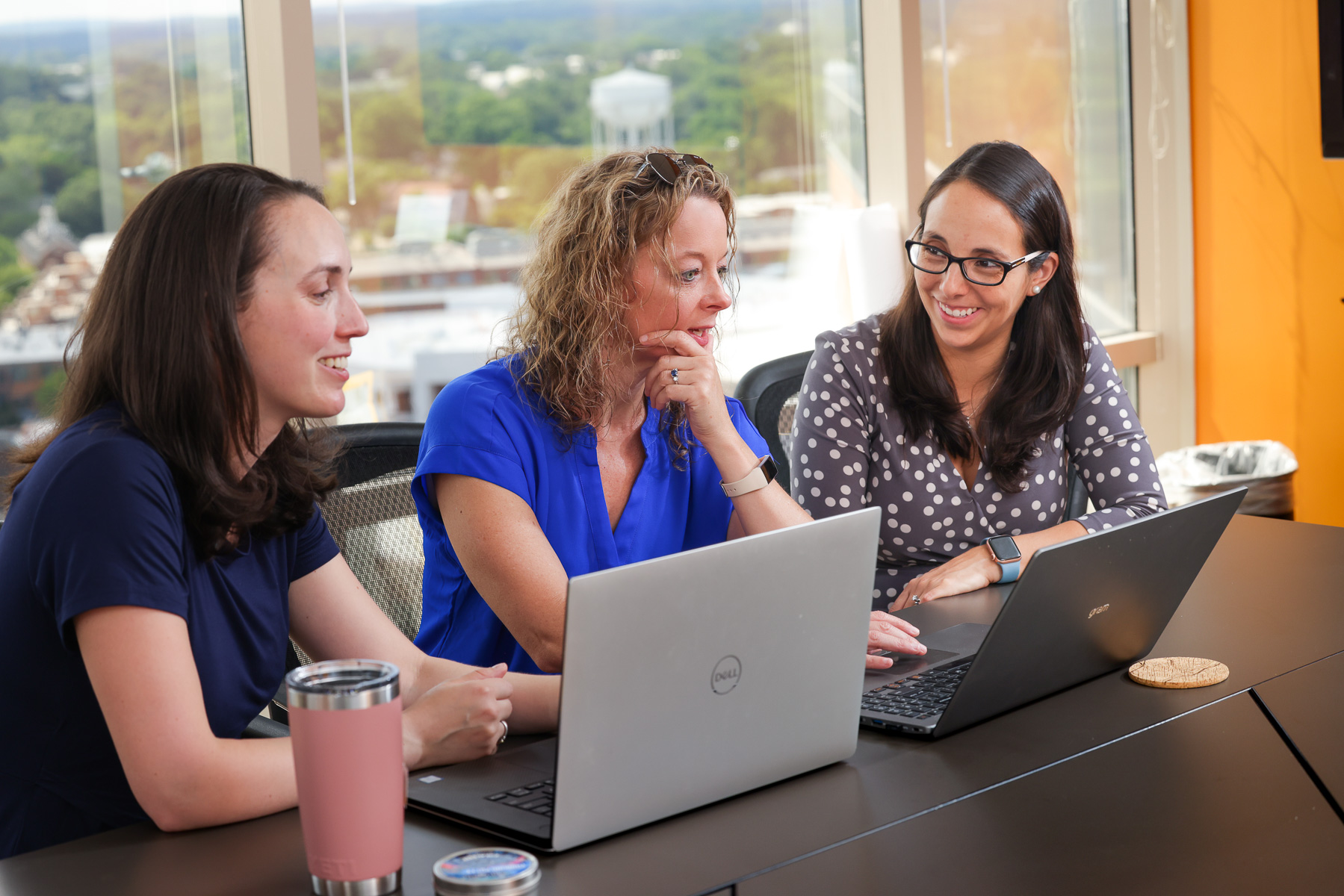 I moved to San Diego. I was working remotely for Goodman Research Group (GRG), and in the process of trying to build GRG's business, was approached by a local team to see if I would take on some new projects they had just gotten. The projects were too small for GRG, and so I got permission to do the work myself. Little did I know, Karen Peterman Consulting, Co. had just been born. Thanks to Jeremy Babendure and Loren Thompson for taking a chance on me!
I incorporated KPC in May and had a baby in August…and I don't remember much for several months after that.
At some point the next year, while attending a PI meeting in Washington DC and with my new baby in tow, I was asked to serve as an advisor on a project that conducted a meta-analysis of one of the National Science Foundation's (NSF) programs. Leslie Goodyear nominated me for the board (Thank you, Leslie!), and the experiences being "in the room where it happens" were invaluable in so many ways. Most importantly for my growing company, it was clear that a sea change was coming in how the NSF was thinking about evaluation.
In short, evaluation (and the funding associated with it) was about to be downgraded. At this time, almost all of my work was NSF-funded and so this was a huge problem. I needed to diversify…stat!
Back to My Research Roots
It was at this point that I started thinking about my Ph.D. roots, and additional skills that I might have to offer to clients. Two options came to mind: doing research instead of evaluation, and publishing. And, since I was starting to freak out about my new company floundering almost straight out of the gate, I did both!
Looking back, the research part happened through a streak of luck that I can't take credit for on my own. Ruth Kermish Allen, then at the Island Institute and now at Maine Math and Science Alliance, approached me about taking on the research role for a new grant. That same fall, I pitched the idea for a new research grant called EvalFest to colleagues from the North Carolina and Bay Area Science Festivals and I was approached by my colleague Rachel Becker-Klein about joining forces to apply for a grant of our own. Each of these eventually got funded. I started my first NSF-funded research project in 2012 and the company has had at least one research project in the portfolio every year since.
In the early years, most KPC clients were using intuition and practitioner logic (rather than the literature and research logic) to design their projects. Many were natural scientists who didn't know the literature or rules of engagement for social science and education contexts. Pressure from funders was also mounting, such that publications were becoming a "have to have" instead of a "nice to have" condition for support.
I've always loved to write, and so this seemed a natural gap we could help clients fill…and we've been doing that kind of work ever since. Our first article came out almost a decade ago now, and we are currently on target to publish our 30th article in 2023.
I was invited to be a speaker at a National Science Foundation meeting for the first time. I wasn't the first Karen they asked. It turns out they asked Karen Gaeris first and, for whatever reason, Karen said, "I think Karen Peterman should be doing this," and so Jamie Bell called me instead. I was flabbergasted. Jamie wanted me to share the stage with John Falk. Uh, okay!
While attending the meeting I was approached by Jeanne Braha, who was at AAAS at the time. She had a contract she wanted to talk to me about. And yes, I'm still looking over my shoulder at this point, and thinking—me? But she wasn't kidding, and AAAS became KPC's first contract rather than grant-based project. Thanks to Karen Gaeris to getting this ball rolling, and to Jamie, John, and Jeanne for allowing me to play in their sandboxes!
EvalFest took forever to get funded, and when it finally did, the project opened doors that I had never imagined. It allowed me to hire my first staff person. I had been working with contractors to support the company's work since the very beginning.
Having someone on staff was a game changer. Today, Catalyst is still supported by a combination of contractors and part-time staff. Most have been part of the team for years now, and we're growing.
Though it continues to seem like a bit of a miracle to me, invitations to hang out with fancy people kept coming. It's usually our research grants that result in invitations to cool conversations, but because so much of our research has been about evaluation, the lines blur.
I've gotten to present to the National Academies Board on Science Education twice, once about measurement and citizen science (in 2017) and once about informal learning, STEM learning ecosystems, and community building (in 2022). 
One such meeting was a CAISE convening hosted at the Howard Hughes Medical Institute. One focus of the meeting was the intersection between informal science learning folks and science communication folks.
During the meeting, Julie Risien presented her social network analysis of those who had published work across these two literatures in recent years and, thanks to EvalFest, we were on the short list of folks who were doing both. That was an Aha! moment about the unique expertise we bring. 
Adding Strategic Planning
Meetings and presentations often end up leading to new opportunities, and that's how I ended up being part of the NSF INCLUDES community and how the company started doing work as a backbone organization for a collective impact initiative. That series of happy accidents started in 2016, when I was asked to help plan EDC's NSF ITEST Summit and to lead a session on STEM learning ecosystems.
At that meeting, I had the chance to reconnect with Ardice Hartry who then suggested that Cathy Manduca reach out to me about being the evaluator on a new NSF INCLUDES grant, which then led to being part of the INCLUDES community and meeting Kristin Wilson Grimes and our work on the SEAS Islands Alliance, which was funded in 2019. 
Enter the pandemic. Looking back, we got really lucky in the timing of our projects in relation to the pandemic. Several of our projects were in their final year: all the data were collected and so we were just doing analysis. The SEAS Islands Alliance was just starting, and so there was plenty to do there.
We had a couple of projects go "poof" immediately because they involved public science events, but most projects were positioned to ride things out. We also got lots of unexpected invitations to write during the pandemic, including one from long-time collaborator John Besley and his colleague (and now ours), Sarah Garlick. 
The work with John and Sarah, in combination with our ever-evolving expertise, led to the specific and new-ish focus on strategic planning. This is the newest domain we have added to our list of services, and one of our newest contracts is providing us with the chance to work as a team to hone our skills and the strategic public engagement efforts of two Kavli Institutes. Look for even more news on this topic in early 2023!
Ready to talk about your project?
We'd love to hear what you're working on and how our team can support you with the research, strategic planning, or evaluation that make it easier than ever to make an impact. Reach out and we'll talk soon!
Learn More